Posted: March 2nd, 2012 |
Comments Off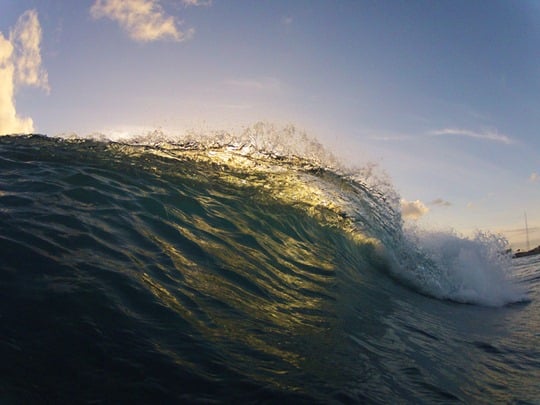 Today's photo comes to us from Neal who lives in Honolulu. Neal is an avid surfer and GoPro camera enthusiast. Naturally, the two combine for excellent wave photos. He captured this photo while surfing at Ala Moana Beach Park.
Neal shares many more of his unique photos at Hawaii-Photos.net. Check it out!
Mahalo to Neal for sharing his photo with us!
Posted: February 29th, 2012 |
Comments Off
As you might imagine, I regularly check Hawaii hotel rate and occupancy trends. What's the current trend? For a quick summation, let's look at recent headlines from Pacific Business News:
Hawaii hotel room rates rise 7%
Hawaii hotel occupancy nudges upward, room rates gain
Hawaii hotels' gross profits total $928.2M
Hawaii hotel room revenue in 2011 was highest since 2007
I'm very happy to see my beloved Hawaii recovering from the tourism economy slump. I'm excited that more...
read the full article »
Posted: February 28th, 2012 |
Comments Off
Whenever we go to Hawaii, we like to plan a picnic at sunset. As I've described in the post, The "Restaurant" with the Best Sunset View in Hawaii, sunset is the ideal time to enjoy a picnic. You'll practically feel like you have the place all to yourself while most folks are trying to get a nice table in a restaurant.
On our recent Lanai visit, we decided we wanted...
read the full article »
Posted: February 27th, 2012 |
Comments Off
Something hot always seems to be going on with the active volcano, Kilauea, on Hawaii's Big Island. Here's the latest news on where you can see lava activity.
1.  Halemaumau Crater in Hawaii Volcanoes National Park continues to vent  from the lava lake below the crater's surface. Dusk, night and dawn are the best times to check in on the vent in order to see the lava lake's red glow emanating from the vent. With this webcam link, you can watch...
read the full article »
Posted: February 24th, 2012 |
Comments Off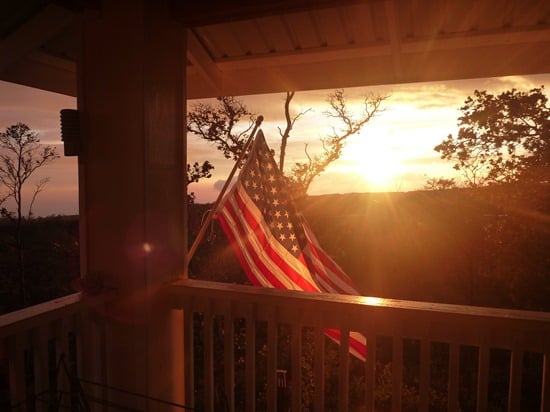 Karren Fleuret shared today's Aloha Friday Photo. Karren moved from San Diego to Ocean View on Hawaii's Big Island in December. Two weeks after she moved in, she captured this golden sunset from her lanai.  It sure is a beaut!
Mahalo to Karren for sharing her photo with us on this Aloha Friday!
© Go Visit Hawaii – Republication of this entire post is prohibited...
read the full article »
Posted: February 22nd, 2012 |
Comments Off
Thousands of visitors flock to Waikiki Beach every day. Hawaii's most iconic beach has been dubbed a tourist's mecca.
I know we have lots of seasoned Hawaii travelers who read Go Visit Hawaii. So, I'd love to hear your thoughts about Waikiki Beach. Do you love it, like it or avoid it?
To start this discussion, I'll share my thoughts. I enjoy the urban Hawaii vibe and gentle waves in the daytime. By far my favorite thing about...
read the full article »
Posted: February 21st, 2012 |
Comments Off
When we stopped by the concierge desk at Four Seasons Resort Lanai at Manele Bay to learn what  ocean adventures were available, we immediately asked to book the Lana'I Mammal Search with Trilogy. With February being the height of Hawaii's humpback whale season, we had our fingers crossed that we'd see some whale action – and that we did!
Within minutes of leaving the harbor at Manele Bay, the mammal sightings...
read the full article »
Posted: February 20th, 2012 |
Comments Off
When you travel to Hawaii–Oahu in particular–you run the risk of being bitten by a rather contagious bug.
No, not a bed bug. The bug I refer to is more of a "jumping flea." You may know it better as a ukulele.
Whether grabbing cocktails in Waikiki or catching a luau in Honolulu, your trip to Hawaii is practically guaranteed to include an opportunity to listen to...
read the full article »
Posted: February 17th, 2012 |
Comments Off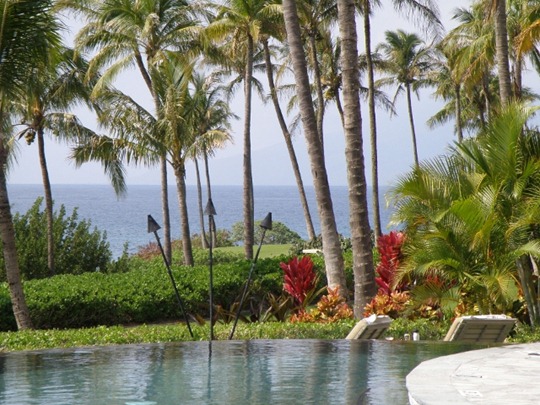 This photo makes me want to crawl right into this scene! Are you with me? I spy two empty chairs. Let's snag'em!
Mahalo to Janet from New Mexico for sharing this photo from the infinity pool at the Ritz-Carlton Club and Residences at Kapalua Bay in Maui.
Now please excuse me as I stare at this photo for the rest of the day and daydream about being there.
© Go Visit Hawaii – Republication of ...
read the full article »