Posted in
Events
on November 24th, 2010
The Waikiki Shell Amphitheater is going to be brought to life, on December 17th, 18th and 19th, 2010 at 7:00pm, with a new show, Cirque Wings. Come out to support our the wonderful Hawaii talent that will be performing in this amazing show.
We are pleased to introduce you to some of our amazing performers:
Nani Vercruyssen is a 2010 Roosevelt High School graduate. Vercruyssen was the first Hawaii gymnast to compete at the World Cup level. She was recently named the trampoline sportswoman of the year by USA gymnastics. Vercuyssen trains at the Hawaii Academy in Kalihi and was selected the top trampoline gymnast in the country. She is currently attending UH while preparing for the 2012 Olympics in London.
Chester Baptista, native Hawaiian, born and raised on Oahu, graduate from McKinley High School and Honolulu Community College. His specialty is hand balancing;
Joseph Ahuna, native Hawaiian, currently living in Waikiki with his wife and two children. Joseph is a native hoop dancer;
Shane Masami Doi, born in and raised in Honolulu and is currently attending the Honolulu Community College. Shane is a trampoline and tumbling addict;
Raymond Silos, born and raised on Oahu, a featured performer with his twin brother throughout the Hawaiian Islands. Raymond specializes in aerial straps, hand balancing and the wheel;
Kelly Chinone, born in Tokyo, Japan, has lived in Honolulu for many years and owns "Quality Health & Fitness" in Honolulu. Kelly is a hula dancer, Tahitian dancer and stunt performer;
Alyssa Pevic, born in Michigan, she currently lives in Hawaii Kai while attending the University of Hawaii at Manoa. Alyssa is an artistic gymnast;
Irina Rose Jang, born in Beijing, China, grew up in Hong Kong and now lives in Pauoa Valley while attending the University of Hawaii at Manoa. Irina is an aerial performer as well as an artistic gymnast;
Billy Bellew, originally from Massachusetts, is currently pursuing an undergraduate degree at Hawaii Pacific University. Billy is a contact juggler.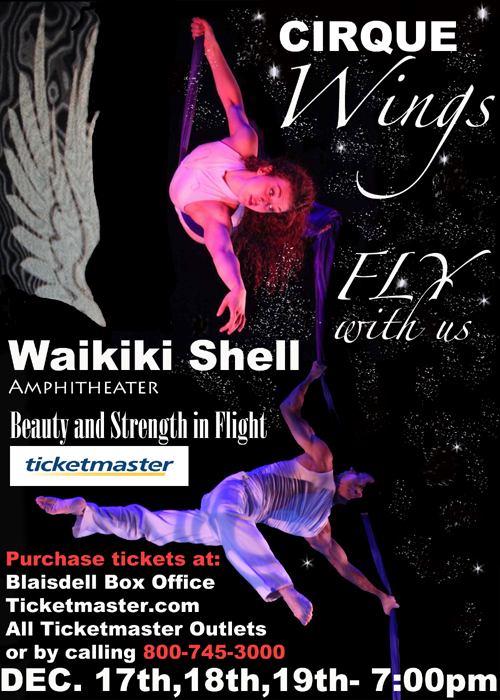 Press Photo's Courtesy: Cirque Wings
Its unique quality, dazzling performance and classic beauty; Cirque Wings is the jewel of performing arts. Appropriate for all ages, the audience will enjoy incredible aerial acrobatics, various styles of dance; plenty of humor and a fun twist on traditional hula. You will not only enjoy the masterful performance, but will witness the unveiling of a spectacular new theatrical circus innovation.
"From ancient times to modern days the passion to fly has followed us in our dreams for centuries," explains Ivo Gueorguiev, director of The New Cirque. "Cirque Wings will take you on a magical journey of the history behind flight. I want to present a show to the community of Honolulu that we can all relate to."
Mr. Gueorguiev brings 40 years of experience to this wonderful masterpiece. A former Cirque du Soleil performer, he began his career before Cirque du Soleil with the legendary Ringling Brothers Circus. Many years following, he found himself starring in Cirque du Soleil's Emmy nominated Bravo special Dralion setting a performance standard that has been difficult to duplicate. Cirque Wings is a masterpiece that will dazzle audiences of all ages through an amazing display of beauty and strength in flight.
"We all have dreamed we could fly in some shape or form," says company manager and aerial performer Jill Hansen. "We want this production to be possible for everyone to enjoy. We are offering very affordable ticket prices along with special discounts for kids and the community of Honolulu, a family of 4 can enjoy an evening out for as little as $60."
Come fly with us on December 17, 18 and 19 at 7:00pm. Support our local talent by giving your family, friends and loved ones the gift of wings this holiday season. A special thanks to The Blaisdell Center for making this holiday spectacular possible.
Tickets start at only $10 for kids 12 & under and $20 for adults (plus applicable charges) with additional discounts for Kama'aina, students, seniors and military, making this an affordable event for all. Do not miss out on this incredible show. Tickets for The New Cirque's production "Cirque Wings" can be obtained through: Blaisdell Arena Box Office, all Ticketmaster Outlets, Ticketmaster.com or by calling 1-800-745-3000. For additional information, please visit www.cirquewings.com.
read the full article »