If you've ever been to Oahu's North Shore, then you know just how beautiful and amazing it can be. The great efforts of hundreds of volunteers go into keeping this land beautiful for all to enjoy.
Today I (@VBrown) had the opportunity to volunteer some time in support of the continued Keep America Beautiful "Great American Coastal Clean Up" campaign, which is coordinated by Adopt a Beach Hawaii, Sea Turtles International, and Save a Life. We conducted the cleanup in a joint effort representing the U.S. Navy in the tradition of giving back to the community in which we live and serve. It was a great day out and one worth while at that. During our cleanup today, the majority of the trash we found was cigarette butts, bottle caps, glass, and trash from fast food restaurants. This is a matter that we as global citizens can help to reduce through education, awareness, and actively identifying trash during our visits to these wonderful places. One person alone can't do it all, but together we can make a difference in keeping our beaches clean.
Below is a small sample of trash items and the amount that 218 volunteers collected from 5 beaches over 7 events on Oahu's North Shore during the 3rd Annual Keep America Beautiful "Great American Coastal Clean Up" which took place from March 1 to May 31, 2009 (THREE MONTHS).
15,476 Pounds of litter disposed of.
53,221 Cigarettes & Butts "painfully" picked up!
9,339 Items picked up relating to recreational beach activities and visitors.
1,408 Bottle caps and lids.
1,440 Pieces of broken glass.
507 Ocean activities items.
113 Fishing lines.
51 Fishing lures.
76 Fishing nets.
96 Pounds of lead weights found under water.
In keeping with KAB guidelines, numbers were calculated using a system where a recorder writes down the trash item discovered when it is being picked up. Records are maintained for scientific data and participating volunteer rosters and all records are archived for future study. Years of records are on file to date.
Beach Project
Chun's Reef, North Shore Beach Clean Ups are the last Saturday of every month @ Noon!
For more information on clean up efforts on the North Shore of Oahu, please visit http://www.adoptabeachhawaii.org or call 808-637-2211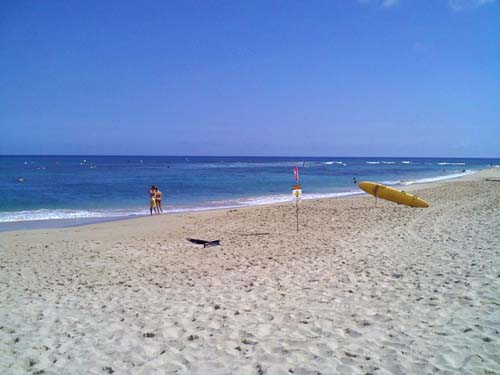 One of The Beautiful Beaches We Work Hard To Keep Clean
read the full article »