Posted in
Events
on November 20th, 2010
TRAIN will headline "Star 101.9′s Band Camp 8" and make their Hawaii debut on Dec. 2, 2010 at Blaisdell Arena.
Internationally-known guitarist ORIANTHI (who appeared with Michael Jackson in "This Is It") and Hawaii-based bands THE THROWDOWNS and PIMPBOT will open the event, which is being produced by Tom Moffatt Productions. Doors open at 6 p.m. and the show begins at 7 p.m.
Grammy award-winning TRAIN's fifth album, "Save Me San Francisco," features the hits "Hey, Soul Sister," and "If It's Love." "Hey, Soul Sister" is the No. 1 most downloaded song in Columbia Records history and was certified quadruple Platinum by the RIAA as of July 14, 2010. The album has sold more than 500,000 copies.
At 24 years old, ORIANTHI has already experienced what most aspiring musicians only dream of. She's opened for her hero (Steve Vai), backed an Idol (Carrie Underwood), traded solos with a legend (Carlos Santana) and shared the stage with the King of Pop (Michael Jackson). The world was offered a glimpse of her collaborative performances with Jackson in "This Is It," the movie that included footage from his last concert tour rehearsals.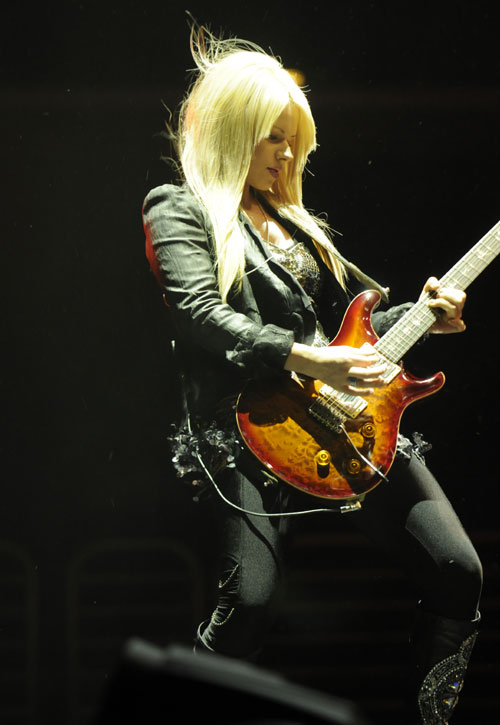 Orianthi
Press Photo's Courtesy: Tom Moffatt Productions & Pitch Engine
THE THROWDOWNS released their debut album, "Don't Slow Down," last year and have shared the stage with a variety of bands including The Fray, Matisyahu, Bad Brains, Panic at the Disco, 311, NOFX, the English Beat and others. The Maui-based group is making their second Star 101.9 Band Camp appearance.
PIMPBOT, Hawaii's DIY-heroes, have taken their original brand of rock/reggae/ska bangers from the shores of Waikiki to the world. The Na Hoku Hanohano (Hawaii's Grammys) nominated rock band was a featured showcase artist at Austin's South By Southwest Music Festival and recently completed a tour of Asia & the Pacific Rim sponsored by Armed Forces Entertainment.
STAR 101.9 Band Camp 8
Ticket prices are $25, $35 and $45 and are on sale NOW! Tickets for the all ages show will be available at the Blaisdell Box Office, all Ticketmaster outlets including Walmart, Kailua Sports Gear, online at ticketmaster.com or charge by phone at (800) 745-3000.
Media Contact: David Sayre 808-221-5025
read the full article »