Posted in
Events
on October 13th, 2010
Not I, is an official selection of the Hawaii International Film Festival for its 30th season held at the Regal Dole Cannery Theatres. On Sunday October 24th at 2:15pm, Not I will screen as part of the Pacific Panorama Shorts, and it is also nominated for the Best Local Shorts Award.
Written and directed by Misa Tupou, Not I ventures into the world of a violent man. Or is he? From a deep sleep he awakes to discover an abusive act on a woman. This forces him to choose, whether to help or not. His indecisiveness mirrors a familiar reality that perhaps he has lived this moment from a previous life. Is it déjà vu, a dream or is it real?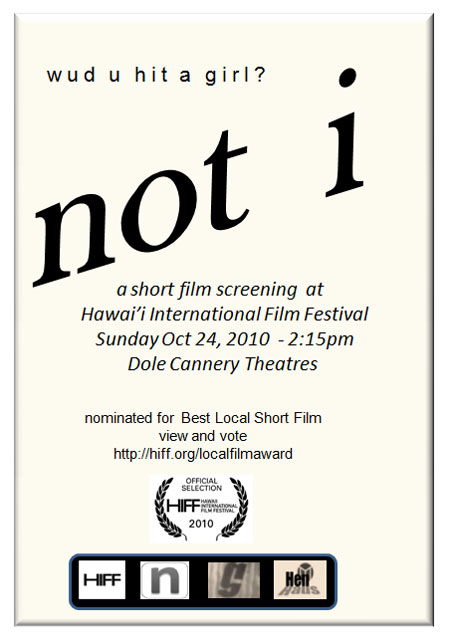 For interviews or more information about "Not I" please contact Misa Tupou directly at 808-721-6942.
What: NOT I, a short film premiering at HIFF
When: Oct 24, 2010
Where: Regal Dole Cannery Theatres
Time: 2:15pm
Tickets: see HIFF website: www.hiff.org
To View and Vote for Best Local Shorts: http://hiff.org/localfilmaward
read the full article »